PLAN YOUR MEETINGS
With state-of-the-art facilities and over 3,3000sqm of meeting space to select from, Grand InterContinental Seoul Parnas is one of meeting planners' most preferred venues for corporate and social events. Be it private board meetings or grand conventions, be assured of support from an experienced meetings team that can bring any vision to life.
INFORMATION
FACILITIES

Event Rooms

Total 152nd FL : 7 / 3rd FL : 3 / 5th FL : 5

Rooms

516
FLOOR PLAN
DOWNLOAD
MEETING ROOMS
GRAND BALLROOM

Grand Ballroom

5F / Capacity 1,000 - 1,500 people

Plan an unforgettable event in the newly-refurbished pillar-less Grand Ballroom with soaring 7.5m high ceilings, 1,494sqm of meeting space, premium audio-visual equipment, an exclusive foyer with natural daylight and a private loading dock and elevator for seamless event set-ups.

MID-SIZED ROOMS

Orchid

2F / Capacity 90 - 420 people

Adorned with ornate chandeliers and wood décor that exudes luxury, the Orchid Room accommodates up to 420 guests and features an exclusive foyer for receptions.

Chrysanthemum

2F / Capacity 150 - 180 people

Accommodating up to 240 guests, the Chrysanthemum room presents elegant interiors with state-of-the-art audio-visual technology, and a private foyer perfect for receptions and coffee breaks.

Rose

5F / Capacity 50 - 170 people

Located on level 5 of the hotel, the Rose Room boasts direct access to Parnas Tower and features updated audio-visual amenities and full-length windows that let in natural light.

SMALL ROOMS

Iris

2F / Capacity 42 ~ 108 people

The classically-designed Iris Room accommodates up to 108 delegates with a seamlessly connected alcove suited for private discussions. High speed Wi-Fi and updated meeting amenities are available in the 136sqm space.

Camellia

2F / Capacity 36 ~ 86 people

Fully-equipped with modern meeting amenities including the latest audio-visual technology, the 99sqm Camellia Room is easily adaptable for various configurations for up to 86 guests.

Lotus

2F / Capacity 24 - 53 people

The Lotus Room presents an exquisite venue for events with rich wooden décor, presenting the perfect setting for intimate events.

Forsythia

3F / Capacity 30 ~ 86 people

Located on level three, the Forsythia Room is elegantly-designed with classic wood paneling and warm, inviting colors. The fully-equipped room seats up to 86 delegates.

Azalea

2F / Capacity 20 - 41 people

Furnished with elegant wood décor, the Azalea Room features an alcove ideal for private discussions, premium audio-visual capabilities and high-speed Wi-Fi facilities for seamless meetings.

Wisteria

2F / Capacity 27 - 46 people

The 67sqm Wisteria is an understated, charming space fully-equipped with modern meeting and conference capabilities, with attentive service from experienced meeting specialists.

Water Lily

3F / Capacity 15 - 30 people

With its classic design combined with modern technology, the Water Lily room presents an exclusive space conducive for private business conversations.

Paeonia

3F / Capacity 27 - 46 people

Accommodating up to 46 guests, the classic Paeonia room features sophisticated audio-visual capabilities and high-speed internet connection, amongst other meeting amenities.

Carnation

5F / Capacity 24 - 84 people

Featuring a private terrace surrounded by 5-meter floor-to-ceiling glass panels, the recently-refreshed Carnation Room is aptly suited for private business presentations and intimate gatherings for up to 84 guests.

Maple

5F / Capacity 30 - 68 people

The 114sqm Maple Room encompasses a separate glass terrace with 5-meter panels that allows daylight to stream in. A private foyer suited for small displays, registrations and break-out discussions is also available.

Tulip

5F / Capacity 18 - 30 people

Stylishly-designed with clean lines and neutral tones, the 54sqm Tulip Room that accommodates up to 30 guests is ideal for board meetings and intimate dinners.
More specific information about rooms can be found on our webpage.
OUR MICE SERVICES
Plan an unforgettable event at Grand InterContinental Seoul Parnas. With the InterContinental Insider Collection, meeting planners can be assured of support from an experienced meetings team with unrivalled local knowledge to bring any vision to life.
Service 1. COEX MICE Cluster

Take advantage of our network across industries located within the vicinity to create a memorable event. The COEX MICE Cluster is an association of 17 top companies including Grand InterContinental Seoul Parnas, InterContinental Seoul COEX, COEX Convention and Exhibition Centre, Korea International Trade Association, SMTOWN@COEX Artium, Hyundai Department Store, Seven Luck Casino and Lotte Duty Free Shop. Create unforgettable experiences for your delegates through our collaboration with these companies that provides guests with benefits at over 200 dining outlets, 1,000 shopping destinations, endless entertainment options and luxurious accommodations.

Service 2. Korea's top team of MICE specialists

Benefit from Grand InterContinental Seoul Parnas' experienced team of top meetings and events specialists. With extensive experience combined with unrivalled local knowledge, an expert team of specialists present truly memorable experiences with authentic local flavor, delivered with precision and flair.

Service 3. Infrastructure

Located in the heart of the business and entertainment district in Gangnam, Seoul, the hotel's proximity to commercial facilities and shopping, dining and entertainment options including the Seoul World Trade Centre, COEX Convention and Exhibition Centre, duty-free shops and a casino ensures convenience at delegates' fingertips. Direct access to Samseong metro station and the City Airport Terminal also provides guests convenient access to the rest of the city and beyond.
LOCATION
Grand InterContinental Seoul Parnas 521, Teheran-ro, Gangnam-gu, Seoul, 06164, Korea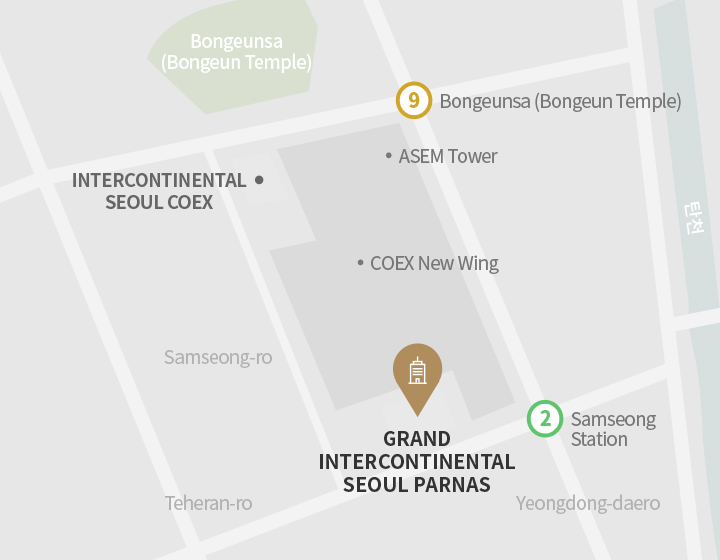 For Reservations and Inquiries For Meetings
TEL

Email
For Reservations and Inquiries For Rooms & Meetings
TEL

Email
Floor Plan - View all meeting rooms
#f6c48f GRAND BALLROOM #e2e8ad MID-SIZED ROOMS #f3e2ae SMALL ROOMS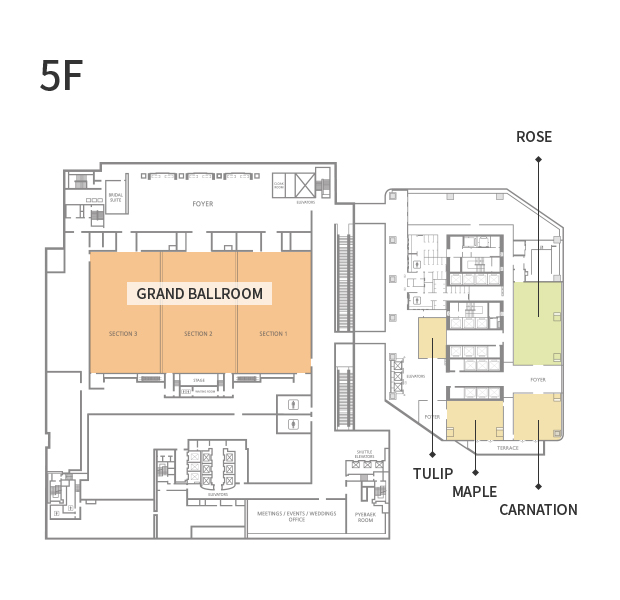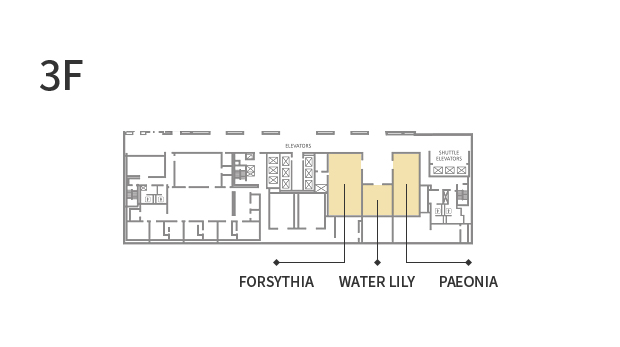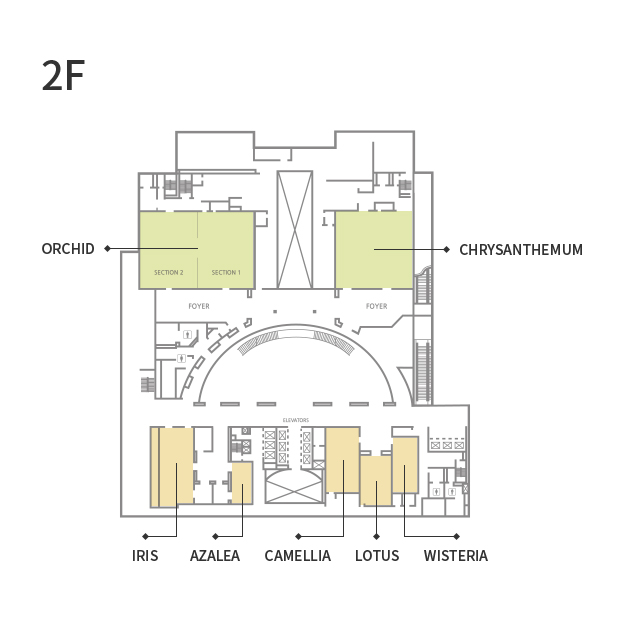 Fact Sheet
Function Room
Width & Length(m)
Height (m)
5F
Grand Ballroom
51.96 x 28.76
7.5
• Section I
16.72 x 28.76
7.5
• Section II
18.32 x 28.76
7.5
• Section III
16.72 x 28.76
7.5
Rose
11.43 x 18.94
3.5
Carnation
11.35 x 10.69
3.5
Maple
9.02 x 12.69
3.6
Tulip
6.10 x 8.85
3.4
2F
Orchid
25.40 x 16.30
2.95
• Section I
12.70 x 16.30
2.95
• Section II
12.70 x 16.30
2.95
Chrysanthemum
16.50 x 16.41
2.95
Iris
16.76 x 7.30
2.8
Azalea
5.00 x 9.11
2.8
Camellia
7.00 x 14.17
3.1
Lotus
7.30 x 11.25
2.8
Wisteria
5.52 x 12.25
3.1
Forsythia
7.25 x 12.55
3
Water Lily
7.10 x 5.80
3
Paeonia
5.12 x 11.40
2.8
Floor Plan - GRAND BALLROOM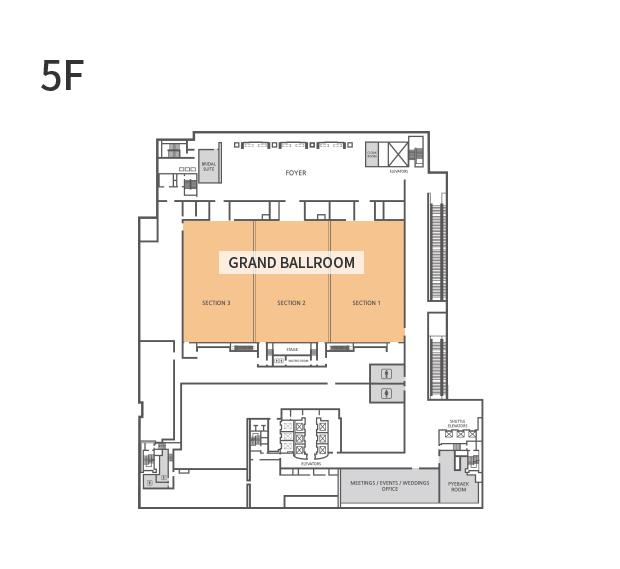 Floor Plan - MID-SIZED ROOMS